Last updated on February 1st, 2023 at 09:55 am
If you want detailed information on the size of a Brazilian Black Tarantula, then look no further. Let's look through some facts about how big they get…

The Brazilian Black Tarantula is a large, slow-growing species that can reach up to 8 inches (20cm) in total legspan. To help them reach their full size, it's important to provide great husbandry in the form of an appropriate enclosure, temperature and diet. As with most tarantulas, males are slimmer and less long-lived than females.
Full grown Brazilian Black Tarantula
In general, even the smaller Brazilian tarantulas look very impressive. The full-grown ones look solid black and even more daunting. The Brazilian tarantulas are usually medium-sized and they grow to around 8 inches.
However, growing up between 6 to 7 inches is seen as an average. The female tarantulas can live for nearly 20 years, but the male spiders have a shorter lifespan with an average between 6 to 8 years.
These are quite impressive and interesting to watch and observe. Due to their docile nature and temperament, they are one of the safest and cutest tarantulas to hold.
Baby Brazilian Black Tarantula
The baby Brazilian tarantulas are very docile, solid black, and appear to be soft. They like burrowing and hiding, away from humans.
Even though people may find spiders to be very scary, baby Brazilian black spiders are very much preferred as a pet.
These spiders are friendly from their childhood which is also one reason why people like to have them as their pets.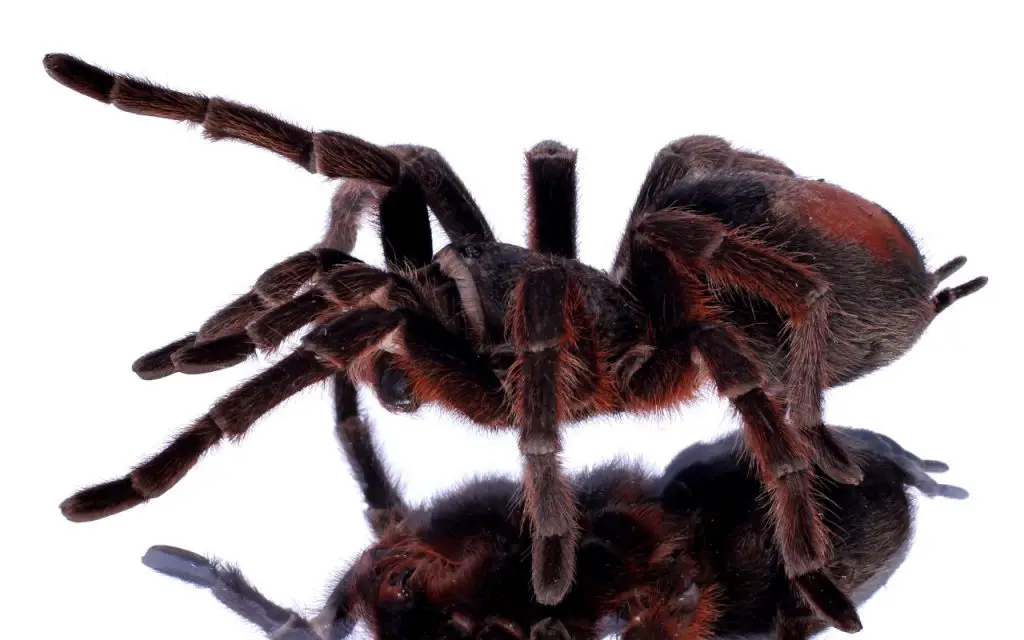 Juvenile Brazilian Black Tarantula
The juvenile black tarantulas are somewhat naughty and mischievous. They eat a lot. They usually are in need of eating one or two small insects every couple of days.
The juvenile Brazilian tarantulas also enjoy burrowing and staying underground. Sometimes, these spiders are usually located in woods and are often found hiding under rocks and other vegetation.  
Brazilian Black Tarantula growth rate
The Brazilian tarantulas grow slowly or their growth rate is pretty slow. While the male Brazilian spiders live for a span of 6 to 8 years, their female counterparts live for nearly 20 years.
However, both the male and the female Brazilian tarantulas grow up o 8 inches when they are grown completely.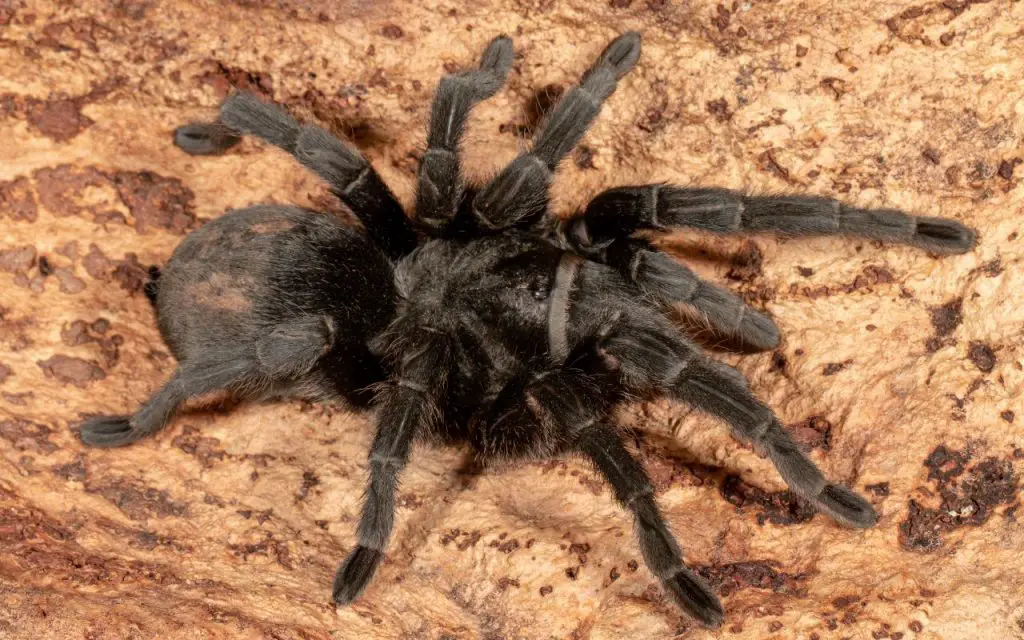 Female Brazilian Black Tarantula
At first glimpse, both the female and male Brazilian tarantulas appear to be the same. However, if noticed carefully, one can observe the slight differences between the two.
The female Brazilian spiders grow to nearly 8 inches in size and live for 20 years. It is advised to remove the female Brazilian spiders within two weeks from the juvenile spiders.
The male Brazilian tarantulas approach their female counterparts and if the female shows interest, they both mate.
In this process, the male spider holds the female's pincers and legs to prevent any potential attack from her.
Also, an interesting thing to note is that if a female spider gets angry, she may even eat the male spider in anger. 
Male Brazilian Black Tarantula
The male Brazilian black spiders live for around 6 to 8 years and grow to a span of 8 inches. They may be eaten by a female spider if they make her angry or annoy her.
They eat small insects and like to burrow and stay hidden. Again, because of their docile bodies and nature, they are preferred to be kept as pets.  
Though not smaller in legspan, they are slimmer and lighter than females.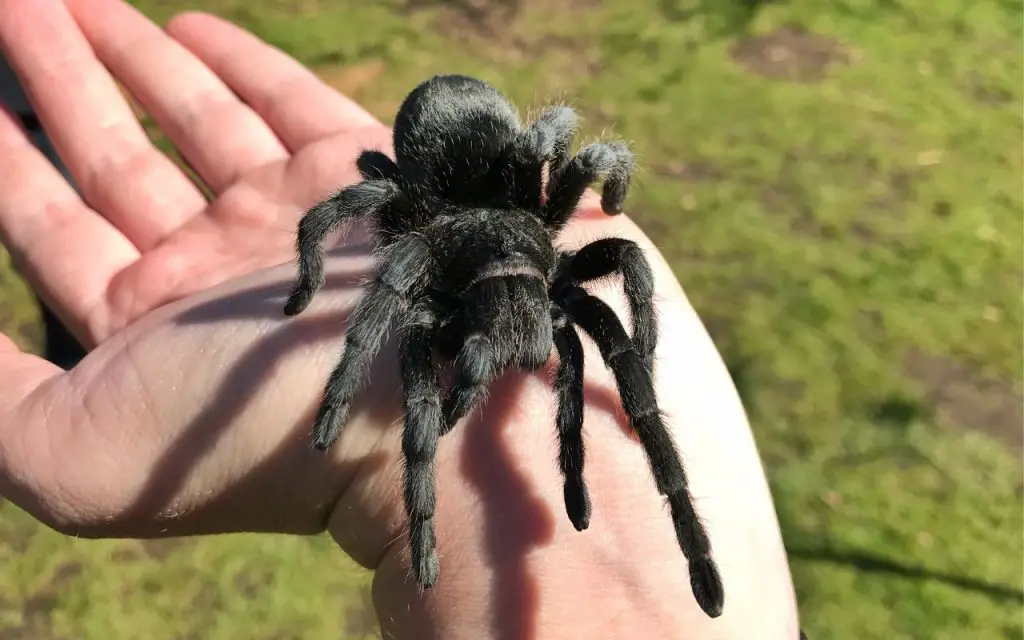 Brazilian Black Tarantula tank size
The Brazilian black spiders need some special requirements in their tank sizes. We know that the size of these tarantulas spans around 8 inches.
So, a completely grown Brazillian black spider needs a 10 to 12-inch tank enclosure. Black tarantula spiders love burrowing and so it is helpful to make the tank based on their requirements.
Their tanks can be provided with some extra height that can be used to place soil in the tank. This is done so that these spiders can dig in and enjoy burrowing.
Also, make sure that the height of the tank is not too much such that the spiders fall down. Since these spiders are quite docile, they may fall and get injuries or may even die.
It is equally important that the tanks of these spiders are cleaned regularly. Hence, we can also say that the relevant width of the spider enclosure tank should be around thrice the tarantula's leg span.
How much does a Brazilian black tarantula cost?
People love buying Brazilian black spiders. They look solid black, is quite cute in appearance, and are friendly. These may be found easily in pet stores or even online stores.
The average cost of a Brazilian black spider is between $100 to $150 per spider. This cost also depends on their age, gender, and size.
Female tarantulas are more expensive than their male counterparts simply because they have a larger life span of nearly 20 years.
Also, the costs increase when you buy a grown-up spider because then in this case you will have to take responsibility for raising a spider from a young age.
Additionally, these spiders are not found in some countries. So, if someone needs to buy these spiders, they will have to spend more on import costs. 
Also, keep in mind to buy healthy tarantulas. If you buy an unhealthy one, you will have to spend on its treatment too.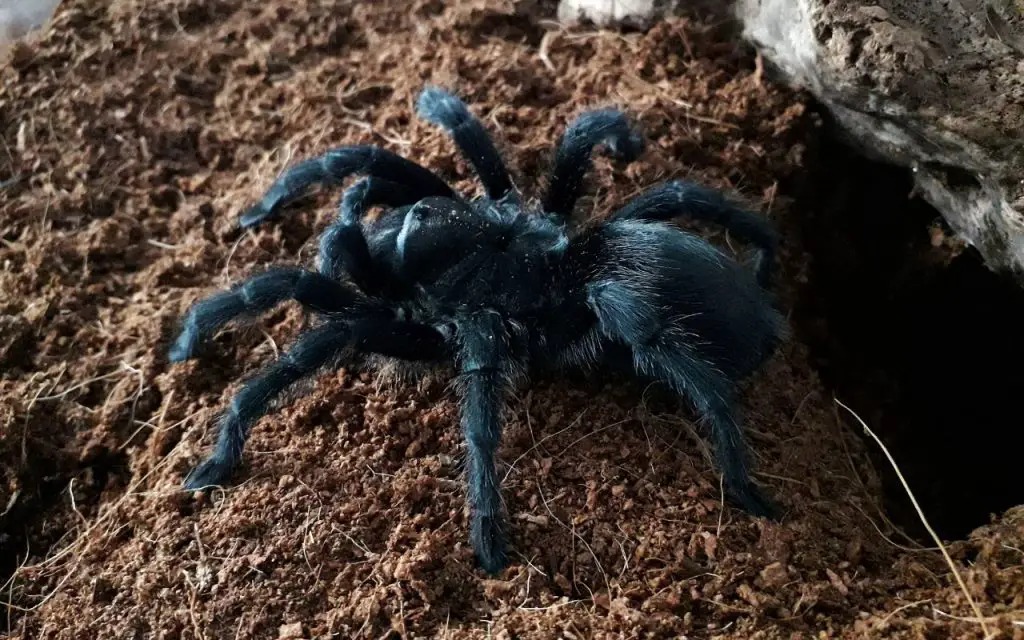 FAQ relating to the size of a Brazilian Black Tarantula
A lot of questions surround the Brazilian tarantulas. They do surely scare away people but are also preferred as pets owing to their friendly and docile nature.
These solid black spiders are native to Brazil and Uruguay. They naturally live in the grasslands which is their first natural habitat. 
Here are some frequently asked questions about the Brazilian black spiders that will help you clear your doubts right away.
Are Brazilian black tarantula poisonous?
Everyone feels scared of the species that are poisonous. Spiders are one of those species. The Brazilian black spiders have fangs and venom but they use them only when needed in situations of danger.
These spiders do not have extremely potent venom. It is also better to avoid spiders that are allergic or those that often release any sort of liquid in reaction to bees or wasps.
Therefore, we can say that these spiders are not very poisonous even though they possess some venom. It is also better to get the proper information from an expert if you intend to buy any Brazilian black spider or any other spider.
One should also take care to not bring these spiders close to their face. This is because these tarantulas kick their hair in order to defend themselves.
These may go into your eyes or even inhaling them may be quite harmful. This could even result in inches, rashes, or even severe allergies.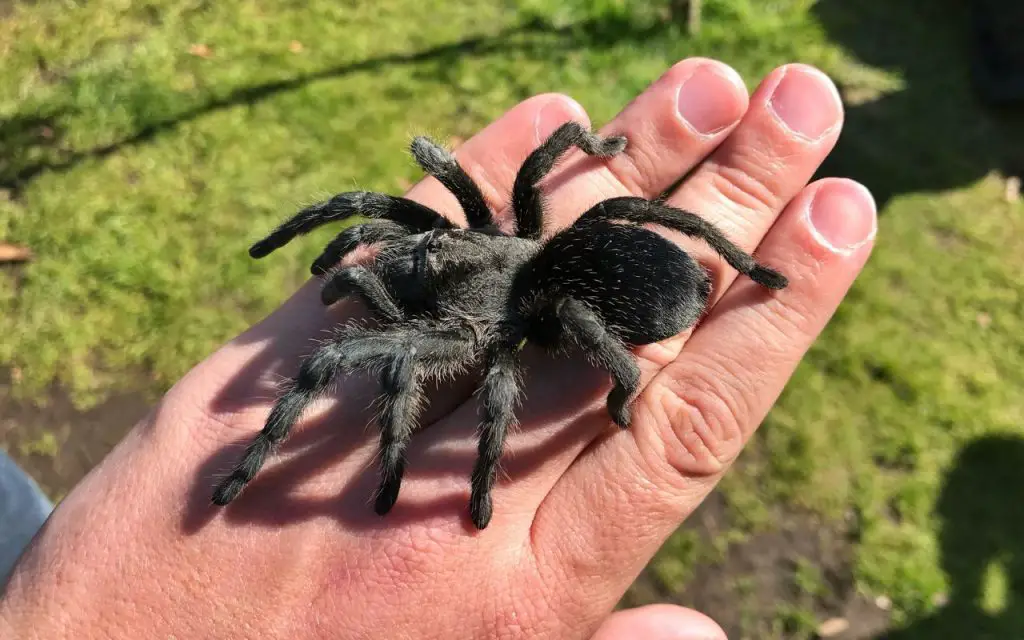 How long does it take for a Brazilian black tarantula to be fully grown?
It is a fact that Brazilian tarantulas grow very slowly. It may take them around 6 to 8 years to completely grow. They grow to a span of 8 inches.
Also noteworthy is to know that female spiders live for nearly 20 years while male ones only for around 7 to 8 years.
How fast does Brazilian black grow?
The growth rate of the Brazilian black spider is very slow. They take around 6 to 8 years to grow completely to a span of 8 inches. So, we can say that it takes around 8 years for them to reach maturity.
They also breed and live in burrows and in hidden places, so their growth rate is also sometimes difficult to note.
What do Brazilian black tarantulas eat?
The Brazilian black spiders eat nothing different from the normal spiders. While the juvenile Brazilian tarantulas need food every couple of days, the full-grown tarantulas eat occasionally. There is a whole list of insects that spiders may really like eating.
They may eat the following:
Locusts
Cock roaches
Other roaches
Mealworms
Crickets (alive)
Liards
Mice 
The mature Brazilian black spiders should be given large insects or many small-sized insects twice every week.
These spiders may have a varied diet and may feed on whatever little or big insect may come their way.
However, if you consider buying these spiders as a pet, then you should first properly consult the spider experts about their meals.